Garmin DriveTrack 71
In-vehicle Dog Tracker and GPS Navigator
When your sporting dogs are on the hunt and you're following in your truck, Garmin DriveTrack is your "big picture" tracking solution. It combines on-road and off-road GPS navigation with wireless link technology that lets you clearly view each dog's location on its large 7.0-inch color map display.
In-vehicle Dog Tracker and GPS Navigator
Pairs with Astro® 430 and Alpha® 100 dog systems to navigate the way and track your dogs from your vehicle
Displays roads, trails and dog locations on a bright 7.0-inch pinch-to-zoom display
Includes preloaded TOPO U.S. 100K mapping and 1-year Birds Eye Satellite Imagery subscription
Detailed road maps of North America with free lifetime map and traffic updates
Road mapping gives spoken turn-by-turn directions, plus driver alerts for sharp curves, speed changes, school zones and more


See Where Your Doggone Dogs Have Gone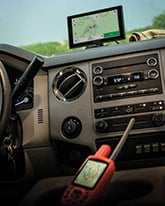 Garmin DriveTrack syncs wirelessly with compatible Astro 430 and Alpha 100 handhelds to help track and retrieve your sporting dogs in the field. You'll see markers for each dog within tracking range, overlaid on TOPO U.S. 100K contours or satellite image views on the large GPS moving map display. Directional cues help you easily follow and locate each dog you're tracking. Plus, for travel on roads or highways, the Bluetooth™-enabled Garmin GPS combines the latest in driver alerts, voice-activated navigation, lifetime maps of North America, free lifetime traffic, Active Lane Guidance and much more.